Disclosure Notice: Even though I get a commission from anything ordered from Tom Hess through my site (which is why I hope you give his products a try via the ad links on this page), I am only recommending his teachings based on what I have seen with my own eyes and heard with my own ears, through years of Research & Tests.  This guy gets results and if he didn't, I wouldn't waste your time or money suggesting him Nor my own. He is an awesome guitar skill builder.
Practice Generator…. Key to goal oriented practice
He has a " guitar practice generator " that will help you keep your practice sessions organized keep you focused on your goals, and in which order to practice things to achieve them goals. The practice generator is a great tool, I have used it for months and I recommend it to anyone. Combined with his videos that he offers, it is cheaper than lessons from an instructor and better, quicker results.
He has some free stuff which I will post at the bottom of this page. I am going to post the premium stuff first as that is what really gets results.
Guitar Accelerator… Massive Knowledge & Skill Builder
Tom Hess has created this guitar accelerator that covers so much on so many topics that it can be overwhelming. I have spent hours using this and can spend hours upon hours more furthering my knowledge and skill with just this alone.
You check off from a very extensive list of what you know, what you can do, metronome speeds etc… so that it keeps track of your progress for you.
This accelerator is not for the weak and I don't recommend it for the beginner. Scale section takes you way beyond pentatonics, major, minor, harmonic minor, melodic minor & blues scales. Learn advanced theory concepts and a lot more.
Try it out now and see how it will help your overall knowledge and skills… You can always cancel after the first month if you find it isn't for you.
Pros                                             Cons
Very informative                          so much information can be overwhelming for some
Very useful tool

Click ad link picture above to learn more or purchase guitar accelerator by Tom Hess
One on One Lessons… Online Video Exchange
Tom Hess has you fill out a questionnaire to learn about your ability and your goals. After he knows what you want to achieve he sets up a plan specific for you and has you update it periodically in case your goals have changed so he can keep helping you achieve them. All Via online, so no need to get out in bad weather or drive your car to an instructor.
Pros                                                                                                      Cons
Instruction from a virtuoso that teaches virtuosos                           Price
Strategic plan customized for each individual

click above ad link picture to learn more and purchase lessons from Tom Hess
Free stuff from Tom Hess
Pros                             cons
Free                               None, it's free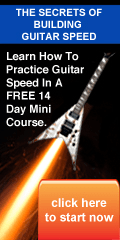 Comment below, especially if you have tried his lessons, practice generator or guitar accelerator so others will know what to expect and what they would be getting